If you're looking for ideas to keep toddlers, pre-schoolers and babies entertained this summer, we have included our top picks below.
1. Crag House Farm Playground and Nature Reserve
Crag House Farm has recently had some fantastic children's outdoor play equipment installed in the gardens which is ideal for toddlers and pre-schoolers.    There is a small climbing frame, slide, tyre swing and tunnel.  They also have two summer houses which keep my children entertained for hours with imaginary play!  There is also a large Connect 4 and other outdoor games which adults seem to love as much as the kids!
You can also pick up a nature trail sheet from the cafe and have a nice walk around the pushchair friendly Valley Walk route, there are "wildlife facts" dotted around the trail and there is plenty of space for children to burn off energy.  We spent quite a lot of time in the bird hides playing "I Spy" for the wildlife we could spot. If you time your visit right there is also the added bonus of readily available blackberries you can pick on the route!
You can finish off your outing with refreshments in the Granary cafe which has a child friendly corner with toys and books.
Cost: Playground and nature walk are free to use
Pushchair Friendly: Yes
Changing and Highchairs Available: Yes
Crag House Farm, Otley Old Road, Leeds
---
2. The Arium Play Area
The Arium has a great free playground for younger kids to run around and burn some energy!  The play area is extremely spacious and secure with climbing frames, slides, ride on tractors, an excavator and sand-pit.  There is a large space with picnic benches, giant snakes and ladders, hopscotch and both an outdoor and indoor cafe which are very child friendly.  Look out for the craft area with colouring and sticking!
Cost: Playground free to use
Pushchair Friendly: Yes
Changing and Highchairs Available: Yes
The Arium is close to the A64 end of Thorner Lane, LS14 3FB
---
3. Lotherton Hall and Wildlife World
Lotherton is a great day out for toddlers and pre-schoolers and there is lots for babies to look at from pushchairs or carriers.
The adventure playground, situated near the car park, is for under 8s and provides hours of fun – I normally have to drag mine out! There is a specific smaller climbing frame and swing for younger children and games and puzzles to play with.  The park is very secure as well with gates at either side and seating for adults!
There are lots of open spaces for children to run around in the woodland area and in front of the house and there are usually garden games on the lawn in front of the house.
The bird garden has a wide range of species and there are information points providing lots of details on the different birds, or for younger children flaps to lift up!   We also enjoy a game of 'pooh sticks' on the bridge where you can watch the ducks playing.
The opening of Wildlife World in November 2017 was a brilliant addition. My children spend ages watching the playful Humboldt penguins.  The viewing area is really good both above water and below and there was also lots of information available on the penguins.
There is a cafe in the courtyard that has an indoor and outdoor seating area and is very child-friendly with sandwich boxes, beans on toast, half jacket potatoes, etc.  The cafe can get busy at peak times.  There is also plenty of space for picnics and ball games.
Off Collier Lane, Aberford, Leeds LS25 3EB. 
Cost: Adult: Online £7.50, Child: Online (5-15 years) £3.75,  Under 5s are FREE
Pushchair Friendly: Yes, however, you can't take pushchairs in the house so slings/carriers would be recommended.
Changing and Highchairs Available: Yes
---
4. Horsforth Hall Park 
Hall Park has a great play area for younger kids.  There's a large play area with swings, climbing frames and slides suitable for toddlers and older siblings.  There's also a great sandpit area, so don't forget to bring a bucket and spade.  The park has several flat, tarmac paths, which are suitable for toddlers on bike and scooters.  At the bottom of the park, Hall Park Cricket Club Cafe & Bar serves food and drinks from 10am onwards. The Japanese Water Garden is great for a little potter around too!
Cost: Playground free to use.
Pushchair Friendly: Yes
Changing and Highchairs Available: Yes
Horsforth Hall Park, Hall Lane, LS18 5JE
---
5. Grasshoppers at Tong Garden Centre 
Grasshoppers is a fantastic indoor and outdoor adventure playarea at Tong Garden Centre.  Outside they have jumping pillows, zip wires, a giant sandpit, fort, and racing track with ride on diggers and racing cars (please note there's an additional charge of £1 for these).   There is a large pre-school only play area too, with ride on tractors, play houses and outdoor toys where younger children can play safely out of the way of older ones.
The indoor play area (opened 22nd July 2019) includes a bespoke play frame equipment with slides, swings, rope bridges and tunnels, challenge decks and a mirror infinity deck and sport's court!   There is a separate zone for babies and toddlers including a role play and big interactive piano for everyone to enjoy!
There is also a cafe and outdoor seating area within the setting as well as a large indoor cafe as part of the garden centre.  Also within the Garden Centre is a large aquatic area and pet shop, which children can visit to see the animals and feed the fish!
Opening times are from 9:15am-5pm. On Peak Days (School holidays, Weekends and Bank Holidays) Grass Hoppers has three sessions running Monday-Saturday for £5.75; 9:15am-11:30am, 12pm-2:15pm, 2:45-5pm. And on Sundays, the session times are 11.15am-1.15pm, 1.45pm-3.45pm (£5.25).  Off-Peak Days (term-time weekdays) its £4.75 for unlimited play. Or £3 for End of Day Play; 3:30-5pm. They also offer Sunday Breakfast Play for £3; 9:45-11am.  BOOKING REQUIRED.
Cost: See above, under 1s free
Pushchair Friendly: Yes
Changing and Highchairs Available: Yes
Tong Lane, Tong Village, Bradford BD4 0RY
---
6. Yeadon Tarn 
Yeadon Tarn has a specific area for younger children, swings, slides and a zip wire, ideal for letting the kids run off steam in an enclosed area! The walk around the tarn is flat and perfect for prams, bikes and scooting for little legs.  There is a skatepark to entertain the older kids and if you're lucky the model boat club will have their vessels on the open water.  Great place to have a picnic, plane spot and feed the ducks as well!
Cost: Park is free to use
Pushchair Friendly: Yes
Changing and Highchairs Available: N/A
Cemetery Road, Yeadon, LS19 7UR
---
7. Leeds City Museum 
Leeds City Museum is a great FREE day out for young kids, with something to do for children on every floor.  Each floor has a different theme and together they cover a LOT of information.  There is a Life On Earth floor (like the Natural History Museum but on a smaller scale) with life sized stuffed animals, the famous 'Leeds Tiger', as well as hundreds of tropical insects.  There's also drawing and crafting areas, dress-up boxes and over 20 interactive areas of the kids to explore, such as digging up fossils and looking in microscopes.  There is also a Life In Leeds floor that takes you on a fascinating tour through the history of Leeds.  From stone-age man to the Victorians and more.  Again with over 20 interactive exhibits and a great play area for the kids, including a playhouse, puppet theatre and construction area.
Open Tuesday – Friday: 10:00 – 17:00pm and Saturday and Sunday: 11:00 – 17:00pm.
Cost: Admission to the museum is free
Pushchair Friendly: Yes
Changing and Highchairs Available: Yes, there is a large cafe
Millennium Square, Leeds LS2 8BH.
---
8. Otley Boats
What is better than messing about on the river? With row boats or pedalos available to hire for a full hour or half an hour, under 5's are free! Enjoy the beautiful scenery, see what wildlife you can spot along the way! It's safety first at Otley Boats, with all the children needing a life jacket, fitted by a team member before you can board the boat.
Open Saturdays and Sunday 10am – 5pm. This is subject to weather conditions and river levels so please check the Facebook page before you travel (normally open until late Sept/early October).
Cost: £7 per for adults, £4 for 6-16-year-olds, under 5's free (cost is for 1 hour's hire)
Pushchair Friendly: Yes in places
Bridge Street, Otley
---
9. Room on the Broom Trail 
The Room on the Broom trail takes you around the Anglers Country Park on a themed 2 mile walk that brings the popular Julia Donaldson book to life.
Starting from the Discovery Centre, the trail follows a route around the lake giving youngsters the chance to see sculptures of the Witch, Cat, Dog, Bird, Frog and the terrifying Dragon! For extra fun and games along the trail, purchase an Explorer Pack for £2 from the Discovery Centre before you set off, this includes treasure hunts, puzzles, crafts, a sticker, crayons and rubbings. As you journey along the route look out for the wildlife that resides at Anglers Country Park, you can also purchase food from the visitors centre to feed the geese and ducks on route.   There is also a great outdoor play area at the end of the trail which has something for all ages and it also worth visiting the visitor's centre. Read more about this fantastic trail for children here.
Some parts of the path may be muddy so sensible footwear is advised.   There is a cafe onsite but in the summer months it is a great place for a picnic.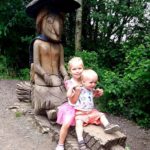 Cost: Park and trail free to use. £2 per Explorer pack
Pushchair Friendly: Yes (Bikes can also be used on the trail)
Changing and Highchairs Available: Yes, there is a cafe but please note it doesn't take card payments
Haw Park Lane, Wintersett, Wakefield, WF4 2EB.
---
10. Kirklees Light Railway
Kirklees Light Railway sits on the site of an old Huddersfield to Barnsley line, used from the late 1800's to move goods and passenger trains up until as recently as 1983 when it was finally closed and the track lifted.  In the 1990's a local family spotted the potential to open a Light Railway on the site and with the help of the council and an army of volunteers, Kirklees Light Railway was created.
The line starts out at Clayton West Station, which is a beautifully restored station complete with tea room, gift shop, large outdoor play area and miniature railway for children to ride on.  Five steam locomotives in beautiful red, hand-painted carriages will take you for three and-a-half miles from Clayton West to the Shelley Station terminus.  You'll pass glorious views as you steam through the South Pennine Foothills and through the Shelley Woodhouse Tunnel (the longest tunnel on any 15-inch narrow gauge line in Britain!).
The journey one way takes approximately 25 minutes and a return trip can be completed in 70 minutes if you're short on time. There is a small play ground with sandpit, picnic area and cafe at Shelley Station though, for those wishing to stay longer and take their time.  Every few months the railway also hosts a Day Out With Thomas, where children can meet and have a go on Thomas The Tank Engine and his friends.
Cost: Adult £6.50, Children (3-16 years) £4.50, Under 3's go Free.  A Family Ticket is also available at a discount.
Pushchair Friendly: Yes
Changing and Highchairs Available: Yes
Park Mill Way, Clayton West, Huddersfield HD8 9XJ
---
Also, check out our Days Out page which has ideas further afield as well.
Looking for walks with a buggy around Leeds and Yorkshire? Have a look at all these suggestions on the Muddy Boots Mummy site!
*Reviews based on Mumblers personal experience from visits