After chatting with friends this seems to be a common occurrence, but here are some great ways to control the snacking!
Daily Snack Shop
A friend of mine has started this genius idea of "Mummy's Snack Shop". Each snack has a price and the money is earned by doing little jobs about the house.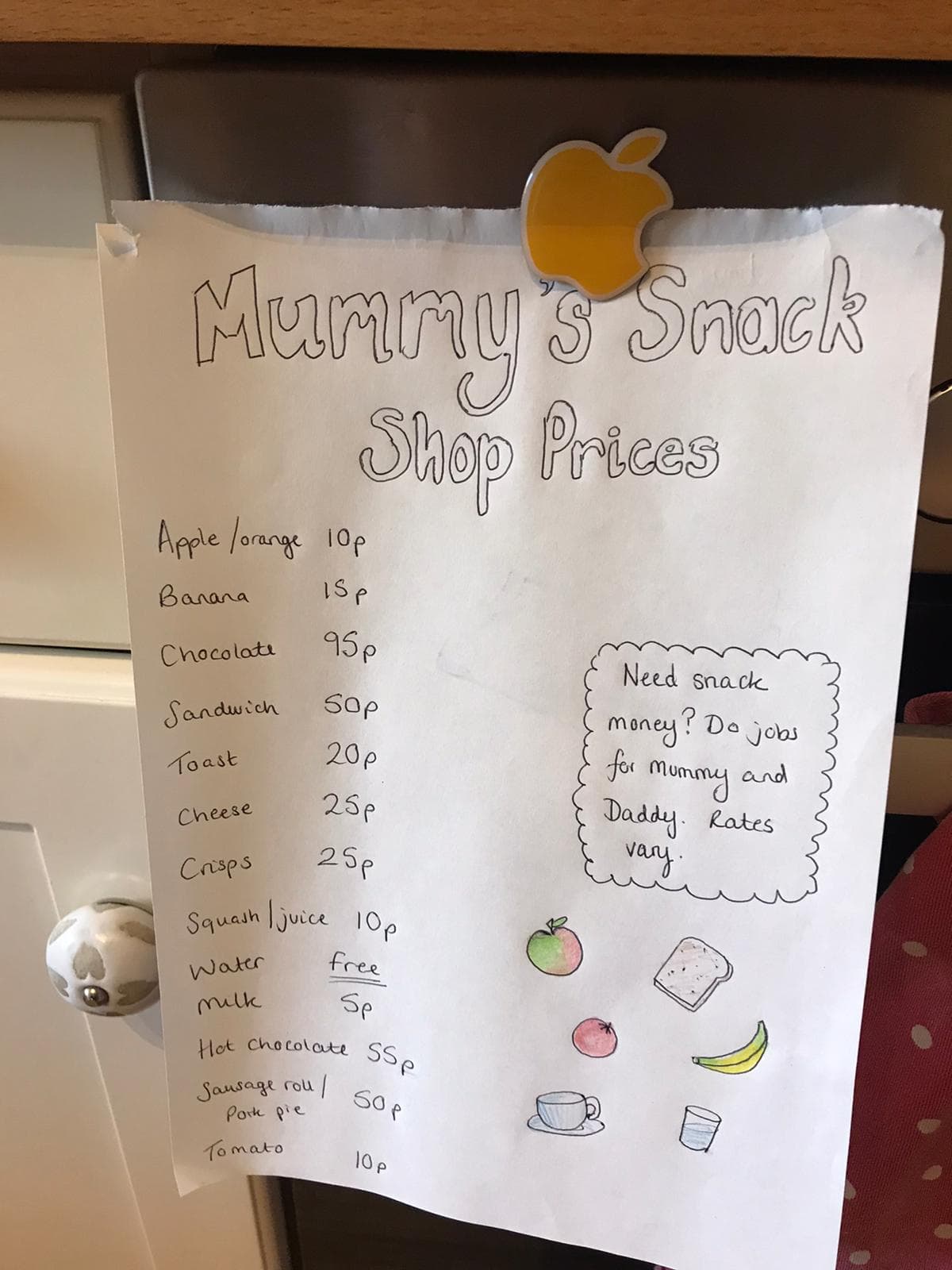 Daily Snack Box
I have been setting the kids snacks out each morning, along with a jug of juice (my kids drink LOADS so this is not an issue in our house but you could add a bottle of juice which they need to drink by a certain time if needed). They can eat them at any point throughout the day – so long as they ask and it's not right before lunch or tea! But once they are gone, they are gone!
I've included one piece of fruit, one treat (biscuit, crisps or fruit winder etc) and one portion of veg such as carrot and cucumber sticks.  I've also used this as an opportunity to get them to try new things, we have tried dried apricots which went down a storm and also humous and breadsticks which was not such a hit!
Snack ideas have been proving a challenge in our house, the kids have been getting bored with the same old same old snacks and after 6 weeks I've had to get my thinking cap on!
Dried fruit
Popcorn
Yoghurt – the tube or pouch yoghurts worked especially well for us
Mini-quiche. You can make these in cupcake baking trays with or without pastry (not my strong point!)
Chicken bites
Hummus and breadsticks
Fruit Kebabs – this excited the kids a lot more than a plain old banana
Scotch eggs
Cocktail sausages
Boiled eggs – I know it seems a little Ventris from Heartbeat but this went down a storm with my 2.
Cream cheese and cucumber sticks
Olives
Savoury muffins, you can add any veg you have, even frozen veg
Vegetable sticks
Oat flapjacks – maybe use up some of the leftover Easter eggs and dip one end in chocolate for an extra treat?
Rice cakes
Pretzels
Cheese cubes or Babybels
Crackers
Please let us know any other ideas that have worked well for you!