Sponsored Blog Post
We have a fantastic offer running at the moment for 20% OFF your first order at FitFlop! Simply enter code NEWADDICT at checkout.
Read this guest review by Charlotte all about their shoes…….
Fitflop Review (Charlotte)
I've been vaguely aware of FitFlop for a while now and if I'm honest, I always associated it with a brand that put practicality over style. Which for many years, wasn't something I was willing to admit (publicly) was of any great importance to me. After all, who needs to feel their toes when your feet are the main topic of conversation at Sports Day…. 
Well, it would seem…I DO.  
I think we can all agree that day to day life as a parent is hard enough without having to deal with both your screaming 2-year-old and tortured soles! 
So, when a friend turned up at my house for a catch up and I immediately clocked her glorious new slingbacks from a great (social) distance, I was shocked to learn they were from FitFlop.  
My first foray onto the site was one of those classic 'how have I been on here an hour already' experiences. The full range had so much offer in terms of variety and style. With a social event on the horizon, I finally decided the strappy red espadrilles were up to the task of making this a noteworthy comeback.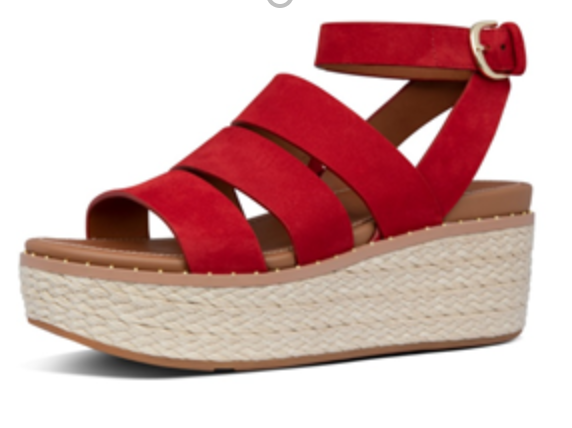 Above: Eloise Espadrilles in Red £130 (£104 with Mumbler discount!) 
Two short sleeps later (and an emergency DIY pedicure) – they arrive. Giddy with excitement, I opened them up immediately and stomped around the house to ensure the fit was right and to test out comfort levels. 
I wish I could do justice to how comfortable and light-weight they actually are and how happy they make me…although I am sure the photo below gives some indication! 
In my dutiful attempt to get a better understanding of the biomechanics behind the shoes before I wrote this, I read over the information about how they optimise pressure diffusion, body alignment and improve muscle activity. However, this lasted 5 minutes until I ended up back on the main site and considering my next purchase…. 
What do you all think – studded sliders, tortoise shell flipflops or leather ballet pumps? 
Remember to apply the Mumbler discount code 'NEWADDICT' to get your 20% off.  
Above: Virgina Stud H-Bar Slides – On Sale at £40 (£32 with Mumbler discount!) 
 Above: IQushion Tortoiseshell Ergonomic Flip-Flops – £26 (£21 with Mumbler discount!) 
Above: Allegro Leather Ballet Pumps in White – £80 (£64 with Mumbler discount)  
Order online here.