Get out with the family and discover the Vikings of Coppergate at the award-winning JORVIK Viking Centre this Summer.
Take in the sights, sounds and smells of Viking-age York, explore the story behind the ground-breaking Coppergate dig and discover remarkably well-preserved Viking artefacts.
1. Explore the Viking-Age City
Travel around 10th century York, experiencing what it was like living in the city. Listen to a Norse couple arguing over what to have for dinner, take in smells from fish to woodsmoke and spot the famous Bogar (man on the toilet). The sights, sounds and smells of the Viking Age are brought vividly back to life as you journey back 1,000 years.
---
2. Discover the Vikings
Where else can you meet a Viking? Get the most out of your visit by chatting to friendly Viking hosts and discover even more about life on the street of the cupmakers (Coppergate).
---
3. See the Silverdale Hoard
This Summer, you can discover the Silverdale Hoard at JORVIK. Part of one of the largest hoards ever found in the UK has arrived at JORVIK. Discover over 200 pieces of silver rings, hacksilver and coins of Anglo-Saxon, Viking and Arabic origin.
---
4. Discover 2000 years of York's history
After you've visited the Viking Age, become a real archaeologist for the day at DIG, explore life in a medieval townhouse at Barley Hall and experience the story of York's City Walls at Micklegate Bar!
---
5. Save money with Pastport tickets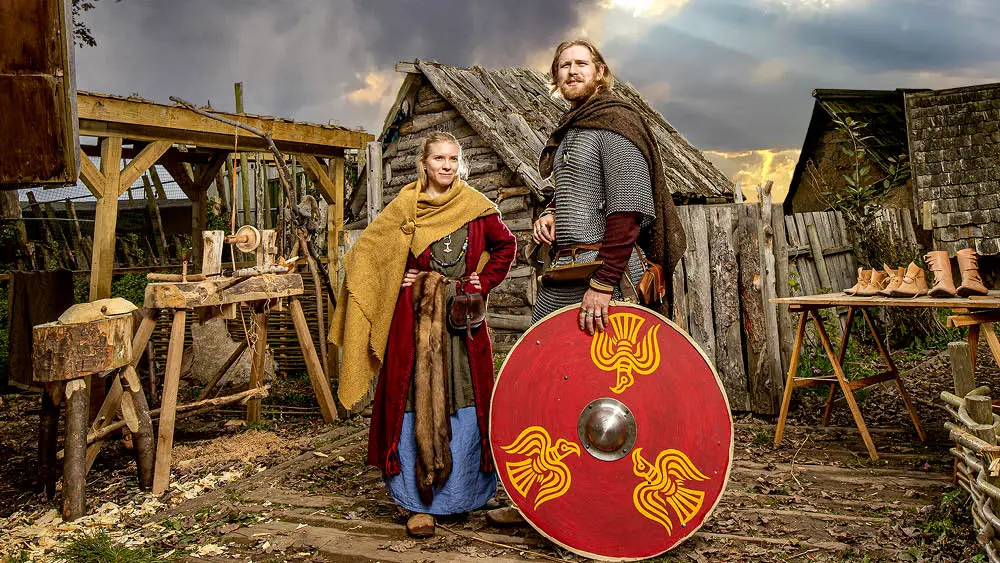 The JORVIK Group make a visit to York's top attractions even more affordable with multi-site tickets. Explore four fantastic attractions – and 2000 years of York's history – for one great price with a Pastport ticket. Includes admission for JORVIK Viking Centre, DIG, Barley Hall and a brand-new attraction, City Walls Experience.
Find out more about Pastport tickets here
---
OUR MUMBLER REVIEW
If your kids love learning about history, they'll really enjoy visiting the various Jorvik sites. I would highly encourage getting multi-site tickets, I think children will enjoy the variety of the different attractions and you can really make a day of it. We enjoyed the Jorvik Viking Centre, but visiting DIG meant that she was able to understand the relationship between archeology and learning about the Vikings much, much more!
We started by a family visit to DIG, where children are taught and encouraged to think like an archeologist. The experience (for 5-12 year olds) started with a half hour interactive talk, which to be honest I wasn't sure would land with my 6 year old, but it was really engaging and we all really enjoyed it. Our host was brilliant- asking lots of questions and getting the children to think about the different artefacts that she introduced. Unsurprisingly, the favourite items were human poo (!!) but actually we learnt a lot. There was also a playroom next to where discussions were held that could be used by younger children, including a variety of toys, activities and dressing up. Our three year old was happy to listen to the talk, but it was great to have that option.
We then moved onto the 4 replica excavation pits to dig in! Under the 'earth' there are a variety of artefacts, and the archeologist staff moved between the families, identifying what they had uncovered and really getting us to think about the objects. Each pit was based on a different time period, and it was great to understand the differences. After half an hour we tidied up and were left to wander around the gallery ourselves. It was great to put our new knowledge into practice! We had been taught about some simple ways to identify the age and upbringing of skeletons- and I was delighted that our daughter used this when she saw the skeleton!
At DIG there's also a garden, with some picnic benches if you're wanting somewhere to enjoy your packed lunch!
Our next stop was the main event- the Jorvik Viking centre. This offers a ride experience that takes you back in time to Viking life in Coppergate 1000 years ago- with the site on the same spot where discoveries were made in the 1970s. You first enter a room which shows you the Coppergate dig, and a Viking welcomed us with stories about how people lived there. We had a short queue for the ride- which began by taking us back in time! (The ride is a fully immersive experience- my daughter was less than impressed by the smell at first (!) but soon got used to it).
On the ride, you discover 10th century York in six seater 'capsules', with both a screen and a speaker to help you understand what you are seeing and hearing. You go past homes, workshops and backyards, which are all pointed out and explanations given about the people who lived there. It's a great way to learn about the Vikings- and fact loving children will absolutely LOVE it. After the ride there is a gallery of artefacts, with Viking hosts available to offer additional insights. Our children loved learning about the ways coins were used from one of them!
Our son, although happy enough on the ride, didn't really understand what he was seeing (although under 5s were free so it didn't really matter), so I'd definitely recommend leaving it until children are 6+. Our daughter found it fascinating, and asked lots of questions on the way home which is a sure sign she engaged with what she was seeing. I think the Jorvik attractions are really best enjoyed together, and a multi-site ticket (the Pastport) is valid for a year if you found it a bit much for one day (although you can definitely get round a them).
As always, please do let me know if you have any comments or questions about this trip! Our tickets for the two sites were gifted, but as always this is an honest review of what we have seen and done- we pinky promise!